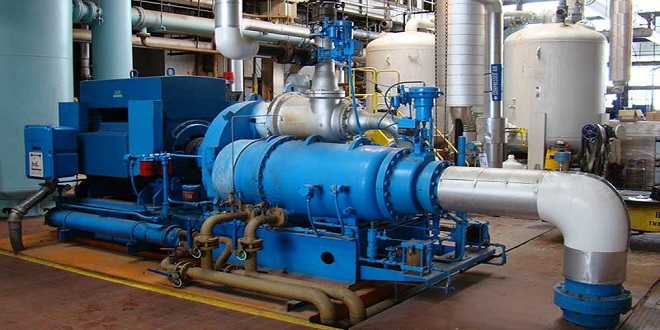 The industrial compressor is usually more prominent than the home-use model. The motor and storage tank of a residential compressor are smaller than those of an industrial unit.
You can expect to pay $1,500- $5,000 for a 5HP industrial compressor, $8,000- $10,000 for a 25HP compressor, $20,000-$35,000 for a 100HP compressor, and as high as $70,000 for an 200 HP commercial compressor.
The basic principle of an air compressor is simple. Air compressors work by cooling and reducing the volume of air. This device is applicable to many industries such as manufacturing, construction, agriculture, hospitality, and mechanical.
Both small compressors that you use at home and those used in industrial settings are similar. There are only two fundamental differences between industrial compressors and small compressors: the larger storage tanks for air compressors and their more powerful motors, which allow them to perform more challenging tasks.
It is important to know the basics of industrial air compressors before you buy one for your company. This buying guide will outline the main considerations and give you an idea of what your initial purchase might be.
Different Industrial Air Compressor Types
The two main types of air compressors are the reciprocating and rotary screw. A reciprocating compressor, also known by the name piston-driven compressor or piston-driven compressor is a compressor that propels air from a cylinder into a storage container under high pressure. Because they are more cost-effective, reciprocating compressors are what most people see in their homes. They are also portable. A rotary screw compressor, as the name implies, uses two screws to pressurize air.
These models feature a cooling system that increases the device's efficiency. A rotary screw model is best for continuous use. They are usually more expensive than reciprocating units.
How do you choose?
To illustrate the concept of continuous use, think about two common uses for an air compressor: a nailgun and a spray painter. The nail gun can be considered an intermittent tool because it only produces short air bursts. Spray painters, on the other hand, require a constant stream of air to do their job. A rotary screw compressor is best for continuous-use applications. Another way to find out how well your compressor can perform your task is by checking the duty cycle. This rating will tell you how safe the compressor can be used for.
A device with a duty cycle of 75% means that you can use it for 45 mins out of each hour. The cooling system and lack of moving parts in rotary compressors usually score 100% on the duty cycle (60 minutes x.75 = 45).
What Does an Industrial Air Compressor Price
A few factors that influence the price of an industrial air compressor are its size, power source and horsepower.
The Atlas Copco GX 4 single-phase pump has 5 horsepower, 250V, 53-gallon tank and 16.6 CFM. It is usually between $4,000 to $5,000.
Quincy QRS-15 Prices for the 54.9 CFM and 120-gallon tanks, 3-phase and 100% duty cycle Quincy QRS-15 rotary screw compressor are between $7,000 to $8,000 in an average.
The Gardner Denver Reward Series offers 7.5 horsepower, 120-gallon horizontal tanks, and 51.6 CFM at an average price of $11,000 to $12,000.
The Kaeser is priced between $23,500 to $24,500. It has a four-cylinder, 49-horsepower Kubota diesel motor with anti-frost.
If you require an oil-lubricated model, expect to pay twice the price for one that is oil-less.
The output capacity and cost of industrial air compressors can vary greatly from one machine to the next. The following numbers will give you an idea of the cost of an industrial air compressor.
A 5HP rotary air compressor can cost from $2,500 to $5,000. While a reciprocating industrial air compressor with 5 HP could be between $1,000 and $2,000.
A 10 HP air compressor can be purchased for between $3,500-$7,000
A 25 HP rotary compressor costs $7,500- $10,000 while a reciprocating industrial air compressor costs between $8,000- $12,000
A 50 HP rotary compressor may cost between $12,000 and $18,000.
The cost of a 100 HP industrial compressor is between $20,000 and $35,000.
An air compressor 200 HP typically costs between $40,000-$70,000.
Customers in the United States pay $2,000 to $2,500 for a reciprocating compressor, $3,000 to $30,000 for a Rotary air compressor, and $5,000 to $7,500 for used compressors