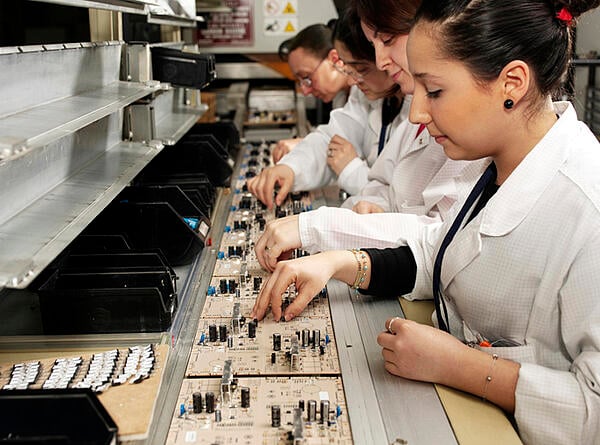 An in-depth understanding of the final product is required as well as knowledge in printed circuit board design, manufacturing and PCB components assembly. Circuit board assembly is only one part of producing the perfect product first time, without any rework or mistakes.
YYFAB's printed circuit board assembly service is a turnkey solution for PCB fabrication and assembly. It focuses on small and medium-volume production, with fast lead times and a low minimum of 1PC for PCBA.
Turnkey Assembly of PCBs: What's it all about?
The term "turnkey" refers to a product or service that has been prepared for immediate use by the customer when it comes to PCB assembly. The supplier will handle every aspect of the PCB project. This includes the purchase of components and parts as well as the production of PCBs. Turnkey PCB Assembly is a great option for small businesses. It creates printed circuit boards quickly, efficiently, and inexpensively using PCB manufacturers and cloud-based web software. A complete turnkey solution allows you to focus on designing PCBs, while the supplier handles the rest. Turnkey solutions are a cost-effective and economical way to build and test circuit boards for goods. Turnkey solutions allow businesses to obtain printed circuit boards quickly and cost effectively. Full turnkey PCB assembly includes all the services necessary to make your finished goods. These include:
* Prototype PCBs
* High Production PCBA
* Make a box
* Inventory control
* Delivery to your final client.
How do I request a quote for turnkey PCB assembly?
Online PCB Pricing: You can quickly obtain a quote for PCBs after making a few choices.All PCBs will undergo electrical testing. To receive a quotation right now, click PCB quote online.
Online Quote for PCB Assembly: This gives you an instant estimate of the labor costs involved in PCB assembly.Click here to get a quote for PCB assembly.
Pricing for Bill of Materials (BOM). Send your BOM and we will give you the price within 24 hours.All numbers, manufacturer names, reference designations, manufacturer part numbers and manufacturer names must be included in the BOM.
If you have your quote, you can place your order anytime that suits you best.
Fast-turn, turnkey PCB assembly services starting at YYFAB
YYFAB has years of experience in PCB assembly and manufacturing small to medium-sized enterprises. Five pieces is the minimum quantity. Since more than ten year, we have provided high-quality boards as well as reliable, market-leading services in electronic manufacturing to clients around the world, all right here in Shenzhen.
YYFAB employs around 400 people. We are proud to be a leader in turn-key electronic board assembly. This includes surface-mount, thru hole, and mixed-technology PCB assembly. We have been trusted by our clients to manage all aspects of their projects from production to assembly and testing. We can offer the most innovative and virtually unlimited possibilities for any prototype or production PCB application thanks to our extensive network of circuit assembly and manufacturing partners.
Avoid the hassle of dealing directly with multiple suppliers and the purchasing process. Our experts will help you find the right components for your project.
We offer the following services for PCB assembly:
Prototype construction that is quick-turn
– Full-service assembly
* Concurrent turnkey assembly
– Assembling consignments
* Lead-free assembly compliant with RoHS
Construction that is not RoHS
– Coatings that conform to
– Complete box construction and packaging
If you have any questions, please contact us at [email protected]. We are happy to help you.